News
NEW PRODUCT - MagSafe Flip Cover for iPhone
Oct 25, 2022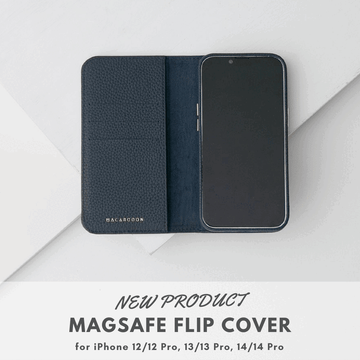 With a ground-braking design, Macarooon's Leather iPhone Flip Cover
has the mission to protect your iPhone (especially the lenses!) and to provide extra storage.
Simply take off the Flip Cover when you take photos or charge your iPhone,
and clip it back when you're done.
The MagSafe rings on both the Flip Cover and the case will provide
appropriate magnetism and keep them attached to each other.
The microfibre lining of the Flip Cover helps protecting the lenses
when they're not in use, so you don't need to install any lens
protectors and sacrifice the clarity of your iPhone camera.
The Leather iPhone Flip Cover uses premium pebble-grain leather for its durability.
Now available for iPhone 12/12 Pro, 1/13 Pro, 14/14 Pro.
Don't forget our free monogram service, 
available for both the Flip Cover and iPhone Case.
US$98.00
US$68.25
US$55.23
US$98.00
Choose this Bundle if you want 
a mix-n-match color combo!
For carrying your iPhone hands-free,
pair with our Leather iPhone Strap. 
Click links and photos above to discover more.