News
New AirPods / AirPods Pro Cases in Premium Chèvre Leather
Apr 12, 2021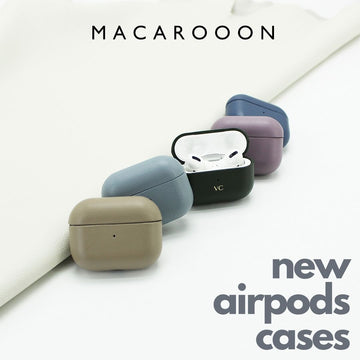 Macarooon's new AirPods and AirPods Pro Leather Cases now come with a smooth, sleek design without white edges for a more minimalist look.
Other than protecting your Airpods / AirPods Pro from scratches, the AirPods / AirPods Pro case can also improve grip with the subtle grained texture of leather. The simple and clean design eliminates bulkiness so you can slip it into your pocket or mini handbag effortlessly.
Crafted in premium chèvre leather, the AirPods / AirPods Pro leather cases offer 24 color choices – together with an option for customization, you can create a unique gift by getting a monogram or a short phrase embossed on the AirPods / AirPods Pro case.
Every edge and corner are wrapped by leather to ensure durability. Wireless charging is possible when your AirPods / AirPods Pro wear this leather case, so you do not need to take it off whenever you want to charge your AirPods.
Macarooon now offers 15% off bundle for all customers purchasing AirPods / AirPods Pro Leather Cases together with an iPhone Cases. Whether you want them in the same color or contrasting colors, these leather Apple product cases allow you to express yourself with quality, subtlety and elegance.
SHOP FOR AIRPODS / AIRPODS PRO + IPHONE CASES BUNDLE